World-class hosting for your online store
We're proud to be part of datacenter that is the #1 hosting provider for the top 1,000 retailers, for the third consecutive year*. For you, this means you'll be working with a hosting provider who's datacenter understands commerce. And we know that when your PRMWD eCommerce Software© and any website performs well, it helps you get and keep customers.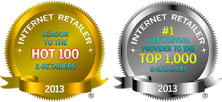 We can help make it happen, with a robust infrastructure optimized for commerce platforms, plus services that can help address the PCI requirements.
* Internet Retailer Top 500 and Second 500 Guide for 2013
Run your eCommerce business, not your servers
You can spend your time patching servers and upgrading software. Or you can let us manage the day-to-day web hosting needs of your ecommerce website, while you spend your time growing your company.


Get speedier page load times
According to the Aberdeen Group, page load delays can cost an ecommerce website as much as $117 million in sales per year[1]. PRMWD make sure your site loads quickly year-round—even during your busy season.
[1] The Aberdeen Group. "The Performance of Web Applications: Customers are Won or Lost in One Second." November 30, 2008.
Maximize uptime
Hosting PRMWD eCommerce store on a resilient platform. When your online store loads reliably, your visitors become loyal customers—and conversion rates improve, increasing your revenues. Plus, when you choose the service level we offer a 100% Production Platform Uptime Guarantee and a maximum 5-minute notification time for monitoring alerts.